Welcome to Rowney Green shared church
"the chapel in the village".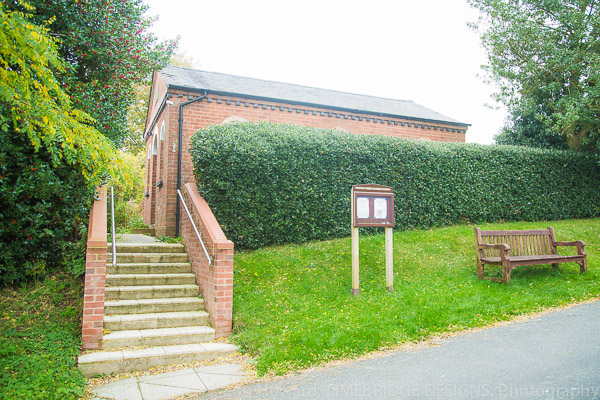 Worship
Weekly worship at Rowney Green Chapel is held at 9.30am every Sunday throughout the year. Each month there are two celebrations of Holy Communion; on the second Sunday it is Anglican and on the third Sunday it is Methodist. Everyone is welcome to come and share worship with us at all services and all are welcome at the Lord's table. We enjoy a coffee and a chat after worship and you are warmly invited to stay awhile and get to know us. Worship through prayer is a fundamental Christian practice and we pray regularly for the villagers, their family and friends, and, of course, the wider world. There is a Praying Place set apart in the chapel and we invite anyone to come and place a prayer on the Prayer Tree, at any time during the week, or to speak to one of the church members, and be confident that God hears our prayer. These prayers are then regularly offered up to God during our weekly worship. Some words from St Paul's letter to the Romans (Chapter 12) "I appeal to you therefore, brothers and sisters, by the mercies of God, to present your bodies as a living sacrifice, holy and acceptable to God, which is your spiritual worship. Do not be conformed to this world, but be transformed by the renewing of your minds, so that you may discern what is the will of God—what is good and acceptable and perfect." We hope to see you soon. Shalom Reverend Ruth
FOR OVER 140 YEARS THE LITTLE CHAPEL IN ROWNEY GREEN HAS BEEN A PLACE OF PRAYER. SET IN A COUNTRY LANE, THE CHAPEL AND ANCILLARY PREMISES PROVIDE SACRED SPACE FOR THOSE WHO SEEK IT.
The premises consist of an attractive chapel, a meeting room with adjacent kitchen, toilet and 'the chalet'. It is a suitable venue for training groups and for church leadership teams who seek a day or part of a day 'away', thinking, praying, planning together.
The chalet offers a comfortable corner for individuals who want some quiet time in which to read and reflect.
There are circular walks in pleasant countryside which begin from the chapel door.
Our regular minister, Ruth Wilson, can be contacted on 01527 541885 or at ruth.wilson@methodist.org.uk
Mission
Living in a rural community is very different from city living, or even suburban life. There is an intimacy found in village life which means that love of neighbour is very much something lived out day by day, by those church members who live in the village. The church of Rowney Green sees its local mission as reaching out to the residents of the village; offering a listening ear, a promise of prayer and a word of hope. As well as the Chapel itself being a space for people to come and just be if that is what is needed. A monthly 'Chapel Lunch' is served at 12.30 on the second Wednesday of every month – all are welcome.
The church community supports local, national and international charities in a variety of ways as well as through fundraising and prayer. If you would like to support the work of this church in its valuable work then please get in touch with our minister or one of the church stewards.
A hymn by Wood & Worsfold entitled "Beyond these walls of worship …" speaks of worship as part of our life, in service to God and to one another. This worship 'beyond the walls' of the chapel is part of the mission of the church community who seek to offer the good news of Jesus Christ, the compassion of God and to kindle the flame of the Holy Spirit. So don't be surprised to hear something of God as you walk through the lanes of the village!
The Chapel is very much part of the community of Rowney Green. The Chapel provides a place for people to come for regular weekly public worship and offers family friendly worship at major Christian Festivals: Easter, Christmas and Pentecost which are all celebrated with vigour! There are times when these popular celebrations are held in the Village Hall to provide more space for the congregation (please check the church notice board to find out about these special services). The Chapel is a place of tranquillity and renewal and as such is an ideal space for private prayer for the local community, both village residents and for those who happen upon us by accident: walkers and ramblers. But for all this we feel our role in the local community goes further than being a special building and providing sacred places for prayer and worship, as the disciples of Christ, the church members seek to offer the love of Christ in practical ways, building relationships and offering friendship in the name of Christ.
THE CHAPEL HAS BEEN AN IMPORTANT PART OF THE ROWNEY GREEN COMMUNITY FOR OVER 150 YEARS. BELOW ARE A SELECTION OF KEY DATES IN ITS, AND THE VILLAGE'S HISTORY
Chapel History

1811
Wesleyan Methodists from Redditch rent "Hillside Cottage" in Gravel Pit Lane and set up a meeting place.

"At Rowney Green we had the most tumbledown chapel I ever preached in or saw, but the preachers were physically well looked after" Benjamin Gregory DD.

1862
Rowney Green Mission Church (in the parish of St Laurence) opened by "licence of the Lord Bishop of the diocese, who came a distance of 16 miles in the most inclement weather to sanction the undertaking by his presence". "It was designed to be cheap, commodious, easily removable, and calculated to last for 30 or 40 years" (Worcester Herald October 12th 1862).

1866
The owner of Hillside gave notice that he wished to take possession. On December 6th, Samuel Thickbroom (of Jasmine Cottage, Lower Rowney Green) conveyed 144 sq yards of land adjoining Chapel Lane to the Methodist Church.

1868
On September 26th, Rowney Green Trustees agreed to build a new chapel.

1869
The Wesleyan Methodist Chapel was built, costing £103. Upkeep and expenses were paid for by annual Seat Rents.

1913
The organ (still in use) was purchased from Mr Hewins of Stratford for £19, and conveyed to the church by horse and cart!

1954
The Vestry/Sunday School room, kitchen, toilet and back porch were built on to the Methodist Chapel at a cost of £1,343/17/10 (paid for mainly by local contributions).

1962
The Bishop of Worcester attended a service to celebrate the centenary of Rowney Green Mission Church.

1970
Chalet erected behind the Methodist Chapel to house the Sunday School.

1977
St Laurence PCC voted to close Rowney Green Mission Church (Church of England – CofE) within 12 months.

1978
On January 31st, the final Mission Church service was conducted by Rev. Leslie Aitken. In March, it was decided that CofE services should continue in the Methodist Chapel (one Communion a month taken by Rector of St Laurence) by kind invitation of its members.

1983
Sharing Agreement signed on September 4th, making "Rowney Green Shared Church" official.

1984
Joint Church Council inaugurated. Business split between "Methodist" and "Joint".

1987
In March, due to his commitments to the Family Service at St Laurence, the Rector (Alan Hayward) announced that Jim Pearson had agreed to lead services at Rowney Green.

1988
CofE Communions increased to two a month.

1989
Decision to no longer separate Methodist and Joint Council business at meetings.

2001
In October, at the request of all church members, the Joint Council approved the change to joint services every Sunday at a new time of 9.30am.

2002
On January 5th, the first regular Joint Service was held.

2006
On September 24th Jim Pearson took his final service.

2007
Church of England services once more become monthly, under the organisation of the Rural Dean.

2009
Talks began on becoming a Local Ecumenical Partnership.

2012
On Saturday June 23rd the Ecumenical Vision Statement & Inauguration of Rowney Green Local Ecumenical Partnership was signed in the presence of the Right Reverend David Walker (Bishop of Dudley) & the Reverend William Anderson (Chair of Birmingham Methodist District).

2013
A special service was held on Sunday June 9th to celebrate completion of a major restoration of the Chapel and refurbishment of its historic organ.